Austin has finally gotten the memo on fall weather! I'm so happy to be free of 90 degree weather you have no idea. I can officially create fall-appropriate looks without feeling like a complete fake in my tank and shorts!
I got my hands on the NYX Cosmetics In Your Element eyeshadow palette in 'Earth' just in time for the leaves to begin changing. Twelve gorgeous shadows in matte and shimmer finishes will quickly having you seeing pumpkin spice. Want to know my thoughts on this brand new palette? Keep reading!
I received this palette in my press goodie bag at The Makeup Show Dallas and I was absolutely thrilled to see the 'Earth' packaging sticking out of my bag. Thanks to NYX Cosmetics, I'd already had the chance to try the metallic themed 'Metals' palette released as one of six new eyeshadow palettes with elemental themes.  I haven't tested a ton of NYX eyeshadow palettes. I'm a big fan of their singles, but didn't perk up to the palettes until their recent 'Avant Pop' release which has the most glorious bold shades that called my name as soon as I walked into the NYX boutique in North Austin. I was pleased to discover the 'Earth' and 'Avant Pop' palettes have a similar formula. The shades are richly pigmented and very opaque, but apply smoothly when swatched with a finger or picked up on a brush. With the 'Earth' palette, I was immediately impressed by the quality of the matte shades. They swatched true-to-color on my dark skintone. When I used on my eyes for the first time, I prepped my lids with a light layer on concealer to act as a primer (I always use either an eye primer or concealer to prep my eyelids) and the color intensity of the matte and shimmer greens persisted through the 5+ hours of wear. No fading in sight!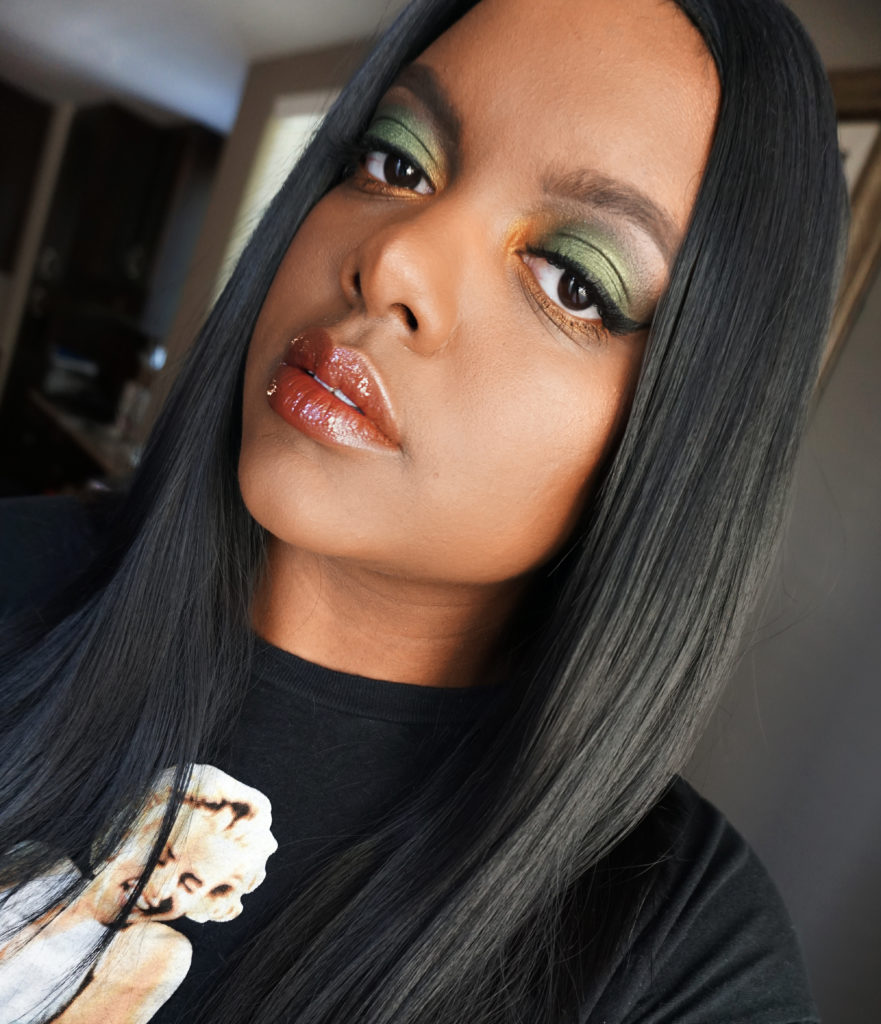 This palette is great from start to finish. It has the base shades needed to warm up the eyelid and the rich marsala red and forest green to add depth to the crease. The color variety of the shimmers allows you to basically customize your lid shade to match whatever base you whip up! Go monochromatic or contrast the shades for endless combos! I immediately went for the browns and greens in this palette because I love seeing blue and green shimmers in palettes! Those pops of colors can really kick up an otherwise boring palette! There are also two taupe/champagne shades I'm absolutely dying to try. I don't often go for the cool beige shades because they tend to blend in with my skintone, but the way these swatched gave me hope that these could stand out!

I don't have a single complaint about the performance of this palette and that brings me to the price. Each of the 'In Your Element' palettes retails for $30. I know there are people out there who screamed when they read that number. "NYX is charging $30 for a palette!? Who do they think they are!?" Even I did a little side eye when I first heard the pricing news. But after trying this out for myself, I would gladly pay $30 for this palette and know all the shades are quality than pay $40+ for a palette from a prestige beauty brand and have entire shadows arrive unusable because the pigments were so poorly mixed and pressed (*cough* I'm not calling anyone by name, but you know who you are). When you think about it that way, I believe the $30 pill is much easier to swallow.
If you are interested in picking up this palette, it's available at NYX Cosmetics boutiques and online and at Ulta in-stores and online! Much thanks to NYX Cosmetics for gifting this to The Makeup Show press attendees.