Is anyone out there a fan of the NYX Liquid Suede liquid lipstick formula? I'm on the fence – sometimes I'm a fan of the creamy, non-drying liquid lipstick formula. Other times I want something long-wearing that is going to last through a tsunami. I go back and forth.
NYX Cosmetics does the creamy formula reallllyyyy well. I rank them up there with the ColourPop Ultra Satin Lip formula. Definitely my go-tos when I'm in the mood for the non-drying lip. NYX graciously sent me six of their newest liquid lippies in this formula and I had to immediately throw them on my lips. Their new collection is called 'Luv Out Loud'. Each of the six lipsticks have empowering names like Brave or Passionate. Their website says the collection names are all "attributes we at NYX Professional Makeup find truly beautiful".
I love the naming – I'm always on the side of inspiring vs. say 'Orgasm' or 'Deep Throat' (ahem, brand that shall not be named). Even though the collection appears under a different naming on their website, the lipstick's formula is definitely that of the Liquid Suede line. Even the tube is the same!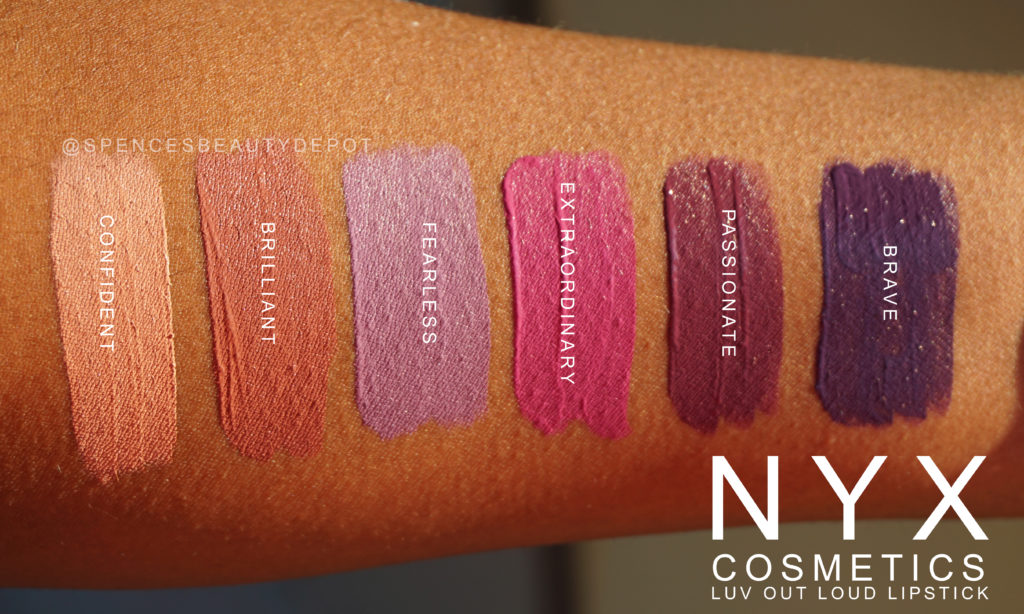 I tried all of these out on my lips except for Confident'. I knew that one would be unflattering without a lip pencil on my skintone, so skipping using it in my initial lip swatches. However, if you are of fair to light medium skin tone, I think this could be a flattering nude. My favorite shade was Extraordinary which is wild for me because I typically do not reach for pinks. This baby is a blue based pink which is probably the reason I was drawn to it – blue based pigments make the teeth look whiter! Next to that shade, I really liked Brilliant and Passionate. They are perfect fall shades. In my lip swatches, I'm not wearing a lip pencil with Brilliant, but in the future that is how I would wear it. I think it would pair nicely with MAC's Chestnut liner. I really also enjoyed Brave and the color is perfect for winter so I can look forward to wearing that in a few months during Austin's winter-that-is-not-really-winter time.
Take a looksee at the shades below. Which ones are your favorite? Thinking of buying any? These babies are also only $7 each which is amazing and consistent with NYX's awesome quality at a low price point. So grab one … or a few!